Microsoft Publisher Training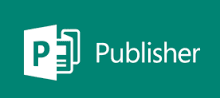 This Course is for learners who want to learn Microsoft publisher only from beginner to advanced level. With our professional instructors and teaching techniques, Microsoft Publisher is an easy-to-use program that produces stunning, professional results. It is a layout and design tool used to create documents that fall outside of normal word processor capabilities, such as flyers, catalogues, bulletins and posters. Whether you are new to Microsoft Publisher or looking to learn tips and tricks, our Learning venture has the class you need.
Our instructors s for Microsoft Publisher will teach you how to use the features of Microsoft Publisher, from basic to advanced.
Contact us for any inquiry or Register on line, and we will email you all the necessary requirements!