Microsoft SharePoint Server
Training & Certification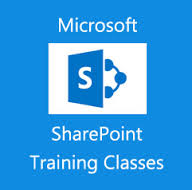 This Course is for learners who want to learn Microsoft SharePoint only from beginner to advanced level. Master the ultimate collaboration tool for businesses, Microsoft SharePoint Server, with training and certification classes from our computer Training School.
With a properly deployed system, processes become more secure, are managed through a familiar environment and integrate seamlessly into the collaboration infrastructure. Whether deployed on-premise or as a hosted service, SharePoint's integrated capabilities make it possible to rapidly respond to critical needs with data-driven business insight.
Expert SharePoint training from our professional instructors (Online Training or Classroom) will help your team develop quality, predictable, cost-effective solutions using Microsoft SharePoint Server.
– Contact us for any inquiry or Register on line, and we will email you all the necessary requirements!