We offer the following Computer Skills Training.
COMPUTER LITERACY TRAINING COURSE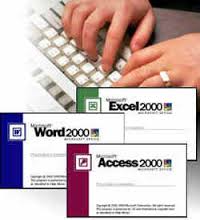 This course is designed for people with no working knowledge of , computers, Windows, typing, who need to learn how to use computer.
For Basic Computing, Typing skills & Microsoft office All-In-One for beginners Level
It has been developed to provide learners with working knowledge of general usage of computers, typing skills and Microsoft office for beginner's level that will enable you to carry out any basic related duties for those who have interest in basic computer knowledge
It is intended for anyone that needs to work for almost any job in the modern office environment, and as such, it is more important than ever before to ensure that people have the knowledge and skills to utilise the latest technology for their own benefit and the benefit of their business.
This course will provide you with the skills you need to start using a computer, introducing you to basic computing, how to type with typing skills, sending and responding to email and Microsoft All in one combo level 1 for beginners including; Microsoft word, Microsoft Excel, Microsoft Office Outlook, as well as maintaining your Calendar, scheduling meeting and working with tasks. You will compose and send emails, schedule appointments, updates and meetings, manage contact information and tasks.
Contact us for any inquiry or Register on line, and we will email you all the necessary requirements!